10 tags
karateka0 asked: Awesome blog dude it gives alot of useful info what's your Rank ? I'm a Nidan who is training in SKIF :D
3 tags
3 tags
3 tags
7 tags
6 tags
6 tags
10 tags
16 tags
14 tags
10 tags
18 tags
14 tags
Lyoto Machida - Kuzushi Waza (HD)
Made this video the other day. Compares Enoeda Sensei's application of Kuzushi Waza to Lyoto Machida, in both a tournament and in the UFC. Enjoy in HD!! Oss
11 tags
8 tags
Kuro-Obi (Black Belt) - Full Movie
If/once it gets taken down I'll replace the embedded video with a working one. This is a must watch for any karateka!
11 tags
11 tags
10 tags
The Dynamic Techniques of Shotokan Karate (Pt. 1 &...
22 tags
9 tags
21 tags
15 tags
15 tags
14 tags
14 tags
9 tags
22 tags
14 tags
My brother
Winning wazaris to take gold at the recent tournament. First match: Second Match: Good timing on the second gyaku-zuki although his heel came off the ground. His technique is getting very strong.
7 tags
12 tags
17 tags
Mawashi-geri
Like father: Like son: My dad (top) and myself.
20 tags
4 tags
9 tags
11 tags
16 tags
13 tags
14 tags
Tournament
Went to the tournament today. The S.K.I. team did very well and brought home nine medals. I did not place in kata, and was disqualified in kumite for knocking my opponent out with a mawashi-geri. I had never knocked a person out before, and honestly I was ashamed at myself for lack of control. However, it happened very naturally and it was an odd experience to say the least.
5 tags
13 tags
9 tags
12 tags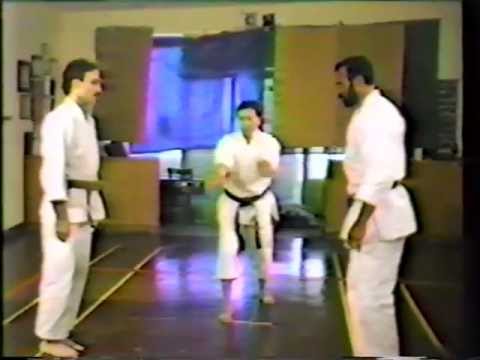 8 tags
10 tags
13 tags
7 tags
Tekki Shodan
I found this GIF on tumblr and fixed it up to match the tempo of the kata a bit better If you can't see the image, right-click where the picture should be and choose "view image"
8 tags
Watch
Tekki Shodan, by Master Funakoshi - 1924 Notice how the kata has changed over the last 85+ years.